We are a new company, TRADIFRESH, which processes and packages in various flavors and combinations products based on red roasted pepper. Our company was created in September 2019 in Antigono, Florina and is based in Amynteo. The idea of ​​establishing TRADIFRESH was born a little earlier, in 2017, after the need created for the utilization of the cultivable areas of this local product of the prefecture of Florina in order to receive the value it deserves. This product, also called Florina pepper, after many decades, was recognized by the consumers, both in Greece and abroad, as a product special in taste and flavors but also essential in a balanced and healthy diet.
We would like to point out that despite the difficult conditions that have been created due to this health crisis and has affected our daily lives and the normality of any country's economy, including ours of course, our products are accepted by the consumers based on its course so far as well as the testimonials of the consumers themselves.
Our Vision
TRADIFRESH's vision, even from the moment of its foundation as an idea, is to be an economically robust and dynamic organization through the creation of long-term relationships of trust with customers and suppliers. The offer of quality products and services is our competitive advantage creating value for the company, consumers and producers leading to a direction of continuous growth, creation, and prosperity.
Our Mission
The mission of our company is to create value for its customers through the provision of high-quality products and services by applying our expertise and technology, from production until the storage and promotion of the final product as well as the commitment to customer's satisfaction. Morality, passion, honesty and keeping our promises will help us to achieve this mission which can be described as following:
'Mother Earth's Treasure on your Table'
Our Values
Supporting the domestic economy through the proper farming of agricultural products
Strengthening the small and medium farmers of Western Macedonia in Greece
Legitimate and fair-trade practices for consumers and producers of raw materials
Safe, healthy, and quality products
Human-oriented and customer-oriented corporate culture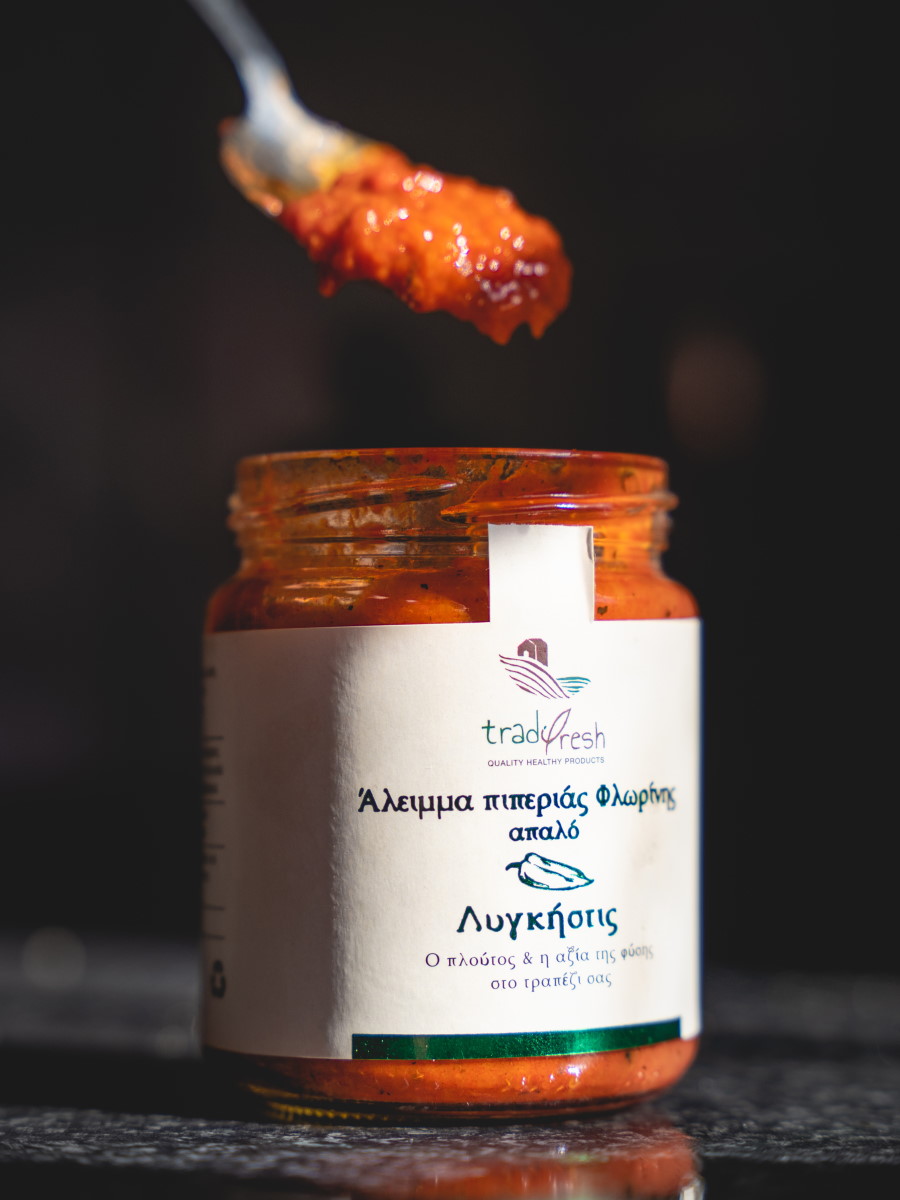 Health Claims
Red pepper hides health secrets we may or may not even know. It is a source of many vitamins, such as Vitamin C, that help boost our immune system and protect our cells from aging. Red peppers contain more than 200% daily intake of Vitamin C! In addition to being a powerful antioxidant, Vitamin C helps in the proper absorption of iron. It also contains.
Vitamin A, which protects bones and eyes due to lutein and zeaxanthin, which can slow the development of eye diseases, and Vitamin B6, which helps in the aminoacid formation and metabolism processes and important antioxidant agents. But the action of red pepper does not stop there. Lycopene, is a powerful preventive weapon against various forms of chronic disease, combined with vitamin B6, it provides an excellent shield for our body's vessels, as lycopene protects their walls while vitamin B6 blocks atherosclerosis.
Recent studies have shown that red peppers can activate thermogenesis and increase the metabolic rate. Red peppers do not contain capsaicin, which is what makes the peppers spicy and cause us to sweat, but they have a mild thermogenic effect that boosts our metabolism without increasing our heart rate and blood pressure, as the chili peppers do
Our Certifications
ISO 22000:2018
ISO 9001:2015
Scheduled chemical and microbiological lab tests
Vegan, Vegetarian, Gluten free, No traces of Nuts, Lactose free, Dairy free, No preservatives, No pesticides
GS1 barcode member
Forthcoming
FDA Approval
BRC
IFS
FSCC
Our People
Ioannis Tsakiridis, the brains and the calm power of the team or in formal title, he is the founder of Tradifresh company.
Stavros Tsakiridis, the heart, and the soul of every product of the Tradifresh company as I like to say or in formal title, he is the Production manager.
Eleni Chaimeli, the woman of the team whose vision is to empower more women to invest in their family businesses, conjoin their forces and believe in their dreams or in formal title, the sales and marketing manager.